Dental Implants
When a tooth is lost and needs to be replaced, there are several options for replacement: 1) no treatment, 2) removable partial denture, 3) fixed bridgework, or 4) dental implant .
Dental implants are a permanent and appealing solution to replace missing or extracted teeth. Nowadays, they are superior to the other options like bridges because no additional teeth need to be altered in order to replace a single tooth.
The entire implant process is performed over the course of only a few months. The first part of the process is to place the implant itself, where a screw is implanted into the jawbone. We will likely refer you to one of our highly trained specialists in the area to do this. The majority of the time, an incision is made in the gum so that the implant can be inserted, and sometimes multiple implants can be placed at once, if necessary. If need be, after the implants are placed, the gums are sutured back into place over the implant(s).
The implant itself must be allowed 3-6 months to heal, depending on the quality of bone and whether bone grafting had been necessary prior to placement. During this time, the jawbone will form around the implant in a process called osseointegration. While the implants are integrating, you will have temporary teeth in place so that you can eat and speak normally while still maintaining proper esthetic appearance for your smile.
Once the implant has healed and the specialist has cleared you for the next phase, it is time to place an abutment and crown on the implant. An abutment serves as the base for your crown, and sometimes this is fabricated as one piece that is screwed onto the implant, while other times the crown is cemented onto the abument. This usually involves taking an impression of the implant using an impression coping and sending this impression to our laboratory. The laboratory will then use this impression to make the abutment and crown. Once the restoration is complete, you will return to our office where we will attach the abutment and crown to the implant permanently.


Dental Implant and Abutment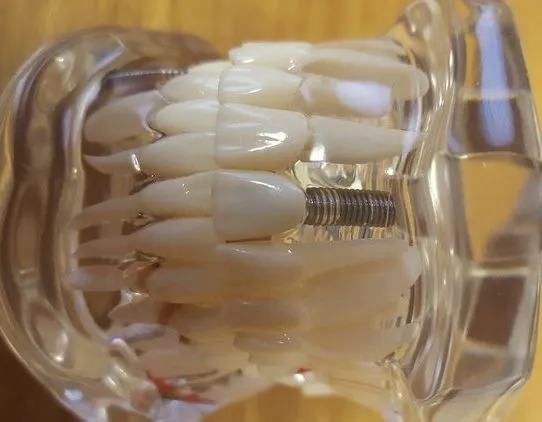 Dental Implant Crown